Thursday 7th of November


Agenda EXECUTIVE INSPIRATION
What: The networking- and inspirational event of the year with top companies Tele2, Lantmännen, BillerudKorsnäs, Scandic, Scania och SEB and 180 Managers and decision makers.
Where: Stockholm, SCANDIC CONTINENTAL, 100 metres from Stockholm Central Station.
Whom: To be eligible to attend you are required to have an executive position or be a specialist over 36 years of age.
Apply: moa.bergstrom@4potentials.com
Price: Attendance is free for all 4potential members.
Agenda:
16.00 Registration of participants, coffee, tea and something sweet.
16.30 Executive  Conversation/Workshop,  round 1.
Break 10 minutes.
17.45 Executive  Conversation/Workshop,  round 2.
18.50 Mingle opportunity, pre dinner drink.
19.30 Three-course dinner
– Awards: 20.00 – Sustainable Leader , approx 21.30 – Most inspiring co-worker
22.30 Mingle
ÅRETS SUSTAINABLE LEADER PRESENTED BY BILLERUD KORSNÄS Read more and nominate here
ÅRETS MEST INSPIRERANDE MEDARBETARE. Read more and nominate here
Cancellation: A cancellation sent to us after October 30th will imply a charge of 545 SEK excluding VAT for costs for food, drink and other services that can't be cancelled at such short notice. Participants will be notified via e-maxil before this date.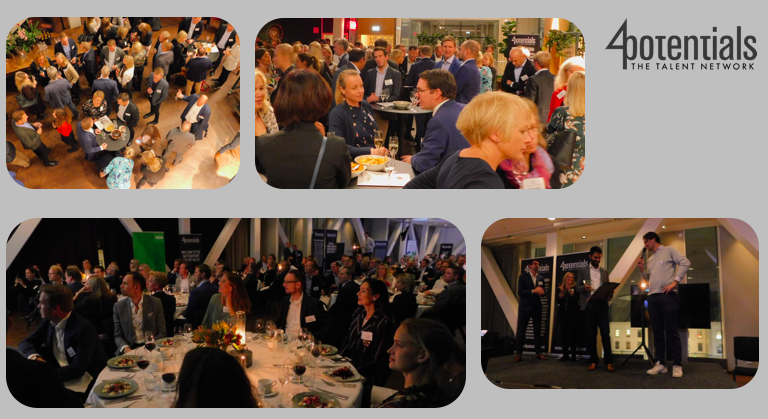 Cost for company: Companies who are interested in participating – 90 Tsek (free recruitment)