Dustin is a leading online IT partner with operations in the Nordics and the Benelux. With our entrepreneurial mindset and progressive approach, we have kept things moving online since 1995. We help our customers to stay in the forefront by providing them with the right IT solution for their needs. At Dustin, we believe that your ambition and drive is what keeps us and society moving, and that our development gives you the opportunity to grow. That's why we can promise you one thing: You keep us moving. We keep you moving. 
We are now looking for our next trainees in Dustin Group!
As a trainee at Dustin, you will have a unique opportunity to get a broad understanding of how to drive business within a listed IT Partner and in a constantly changing environment. You will contribute and take part in exciting projects and initiatives moving Dustin, further on our strategic journey to become the European IT powerhouse.
From day one, you will get hands-on experience and take on meaningful responsibilities by actively contributing to improving our ways of working and achieving results. You will learn and grow alongside experienced leaders and colleagues who are eager to support you. This trainee-year will kick-start your career with a steep learning curve where you will get to build a broad network of colleagues and excel as a young professional.
You have seven unique opportunities to join Dustin:
CEO Trainee
Finance Trainee
COO Trainee
SMB Trainee
LCP Trainee
People & Culture Trainee
Marketing & Communication Trainee
About you
We are looking for someone eager to learn and curious in how to evolve Dustin into a European IT powerhouse. We think you are a driven individual who:
Has excellent analytical and reasoning skills
Has high ambitions and strong integrity
Has strong social and collaborative abilities
Takes own initiatives and has a "can do" mindset
Is result-oriented and thrive in a fast-paced environment
At Dustin, you become part of a fast-paced and driven team with countless fields of knowledge. We place great emphasis on personal qualities, winning as a team and to have fun at work!
What you bring
Master's degree in Economics, Business, Engineering, Technology, Marketing, HR or similar
Up to two years of post-graduate work life experience
Fluency in English and Swedish, both written and spoken
Previous leadership experiences and/or extracurricular activities are meritorious
What you can expect
We offer a unique position and learning opportunity where Dustin will challenge, support and invest in you and your career to make sure that you reach your full potential whilst contributing to the never-ending development of Dustin.
The program starts in August 2024 and runs for 12 months
You will be based in Stockholm but work internationally with frequent contact with our offices in the Nordics and the Benelux
You will be offered a permanent employment after the probationary period
You will have your own mentor guiding you through the program and the organisation in the best possible way.
Ready to act?
We look forward to your application in English which we wish for no later than the 2nd of January 2024. A complete application includes: a letter of motivation, CV and university transcripts.
APPLY HERE: https://jobs.dustin.se/jobs/3325431-dustin-management-trainee-positions
The recruitment process will start when the application period has closed, and consists of the following steps:
Competency assessment and cognitive test through Assessio which is being sent out within 24h after you have submitted your application.
Telephone screening with current Trainee – Week 2
Assessment day at the office in Nacka Strand – Week 5
Final interview
It is our goal as a company to ensure a truly inclusive culture. We anonymise all applications and only screen based on experience, skills, and assessments. We do this with the aim to ensure a process without (unconscious) bias of our recruiters and managers.
If you have any questions regarding the position or process, please contact Talent Acquisition Manager by email: Titus.HesselWelin@dustin.com.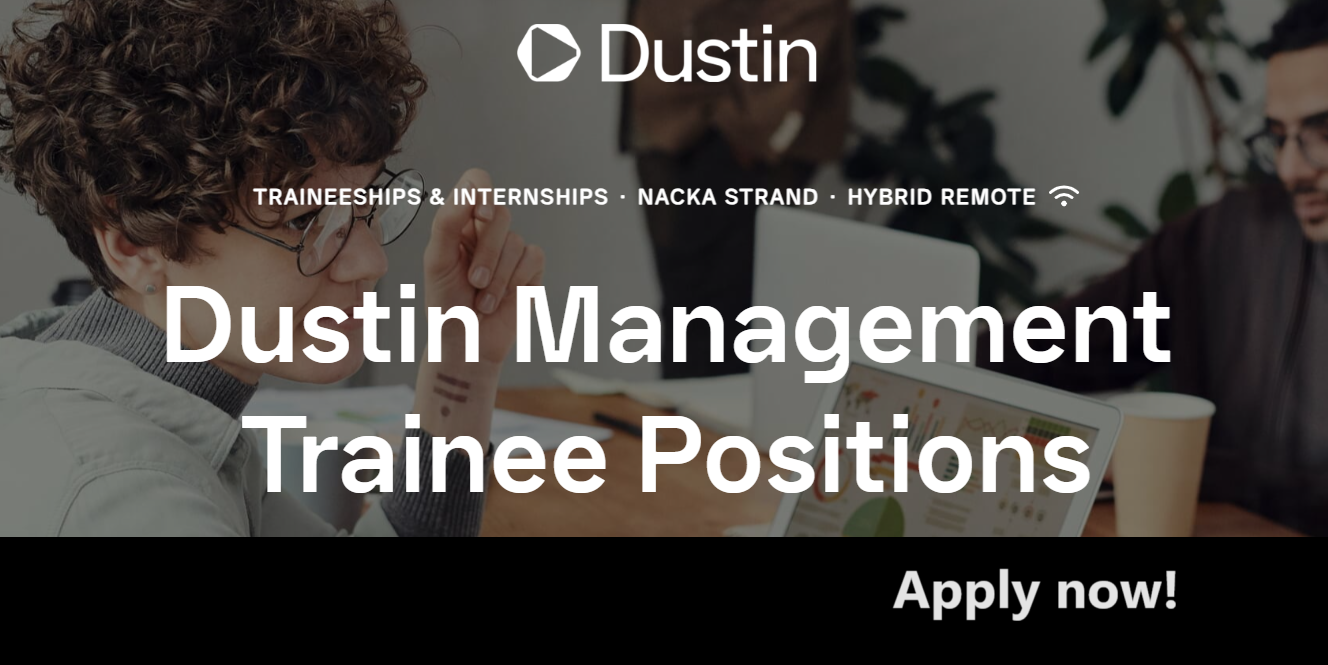 Read more about our steps for equality and our other 2030 commitments here: https://www.dustingroup.com/en/our-focus-areas