ANALYST – OPERATING MANAGEMENT
What we offer
 As the Operating Analyst and Super Talent for Unibail-Rodamco-Westfield (URW) in the Nordic countries, you will be working with one or more assets for further development and increasing the value of the asset and the landscape area around the asset. Our Nordic assets are: Westfield Mall of Scandinavia, Täby Centrum, Solna Centrum, Nacka Forum and Fisketorvet. You are responsible for the 5-year business plan and put it into practice in close collaboration with other departments such as leasing, the day-to-day operations of the assets, finance, commercial partnerships, technical management and marketing.
The role includes coordination of people from different departments and stepping in when it comes to tough negotiations. There is also a part of the work that consists of calculations and analysis. You are the engine to make it happen!
Job description/Key responsibilities
Assist the Operating Manager in acting as team leader towards the leasing managers and the shopping centre personnel to deliver the 5-year business plan strategically and financially
Analyzing the operational P&L & CAPEX cash flow short term and long term
Actively drive priorities from NRI/cash flow towards leasing targets
Create documents and analysis as a basis for decisions regarding Business Plan, Forecast, retailer negotiation or other daily tasks
Coordinate projects and rental activities together with project teams
Responsible for accuracy of reporting of operational P&L, CAPEX, vacancy and other KPI´s on periodical basis together with the Finance department
Valuation process – perform line by line analyses to analyse accuracy of appraisers assumptions
Drive the process and analysis in the ERV project on own assets
What we are looking for
Exceptional people driven by new challenges that believe that teamwork is key
1-4 years of work experience, for example within estate/asset management, management consultant companies, business development or projects within retail.
Desirable education is a Master in economics, real estate engineering or equivalent. Top talent!
Experience from leading a group of people in various projects and good track record when it comes to negotiations.
Hands on but can easily switch to a more strategic vision.
Strong analytical, numerical and Excel skills
Strong communication, presentation, negotiation, and project management skills
Values & behaviours:
Our values make us who we are. They are reflected in very concrete, day-to-day actions: how we work together, how we interact with each other, how we deliver together. Our values are the foundation of how we succeed together today, and how we will succeed together tomorrow.
TOGETHER AT URW
EXCELLENCE – We only aim for the best
TEAMWORK – We unite talent as team
ETHICS – We build on trust and transparency
BOLDNESS – We dare with vision and agility
PASSION – We go the extra mile
OWNERSHIP – We are empowered to deliver
Unibail-Rodamco-Westfield is an equal opportunity employer that embraces diversity of backgrounds, perspectives, experience and skills. We stand against racism, discrimination, and bias of any kind.   We believe that diversity is vital to the success of our business and we are committed to creating an environment of belonging. We welcome, embrace and make the most of people's individual differences, including race, color, religion, sex, sexual orientation, gender identity, national origin, disability, and other legally protected characteristics.
WELCOME WITH YOUR APPLICATION!
You apply via 4potentials recruitment system and state "Operating Analyst for Unibail-Rodamco-Westfield" on the first page when applying. If you have any questions, you are welcome to email the recruiter: tilde.belin@4potentials.com.
We will interview candidates on an ongoing basis and therefore ask you to send in your application today!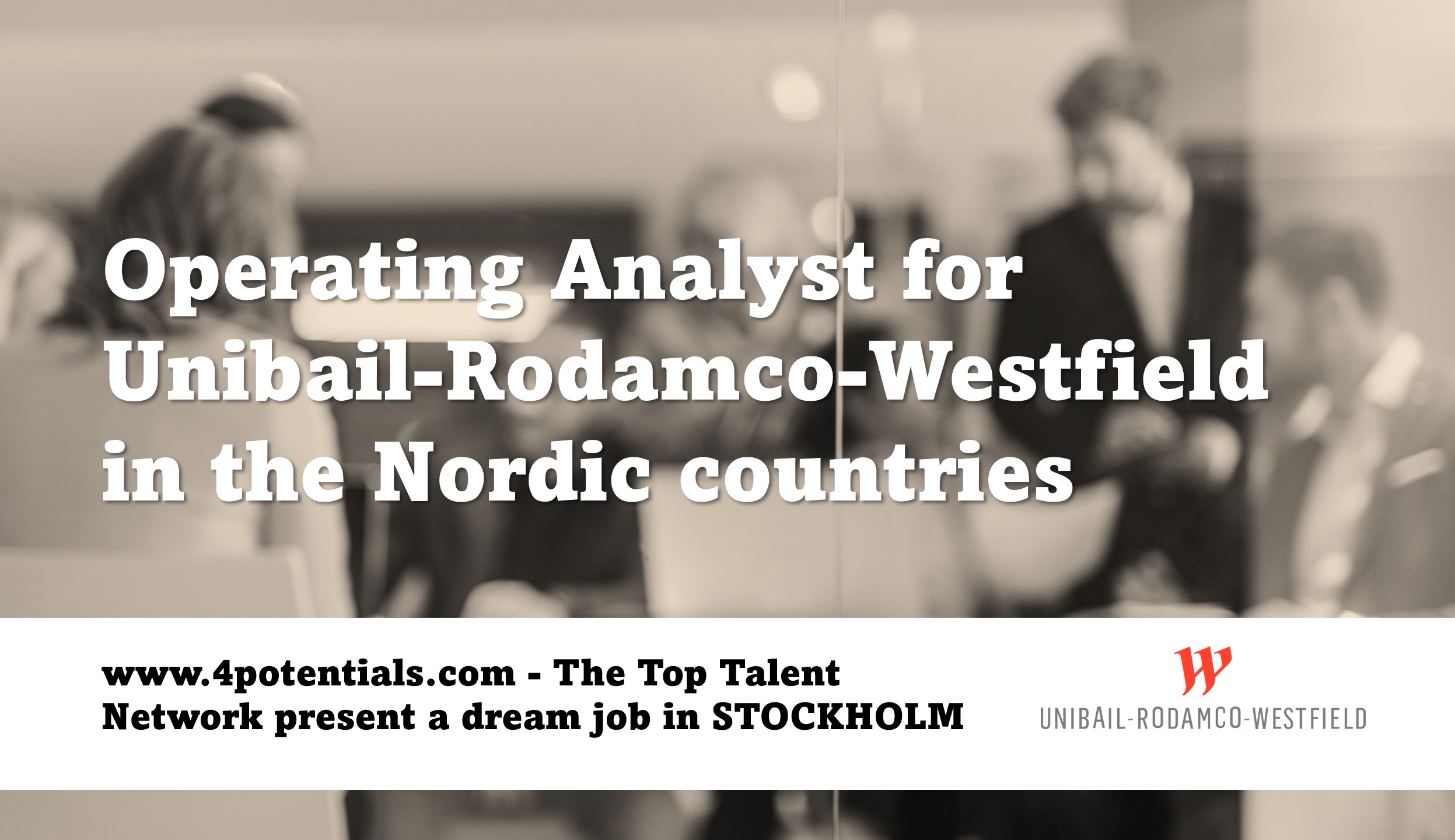 Unibail-Rodamco-Westfield is the premier global developer and operator of Flagship Destinations, with a portfolio valued at €56.3 Bn as at December 31, 2020, of which 85% in retail, 8% in offices, 5% in convention & exhibition venues and 2% in services. Currently, the Group owns and operates 87 shopping centres, including 53 Flagships in the most dynamic cities in Europe and the United States. Present on two continents and in 12 countries, Unibail-Rodamco-Westfield provides a unique platform for retailers and brand events and offers an exceptional and constantly renewed experience for customers.
With the support of its 3,100 professionals and an unparalleled track-record and know-how, Unibail-Rodamco-Westfield is ideally positioned to generate superior value and develop world-class projects.
Unibail-Rodamco-Westfield distinguishes itself by its Better Places 2030 agenda, that sets its ambition to create better places that respect the highest environmental standards and contribute to better cities.