Welcome to the Oddlygood side of life!
Oddlygood was kicked-off in 2018 by the Finnish dairy company Valio, known across the globe for its innovations. With dairy knowledge in our DNA, we took our teachings to Oddlygood, where we create products that are famous for their creaminess and smoothness – the best taste and feeling without compromises.
Today we are the home of Plant-based Oddlygood™ products (e.g. the beloved Oddlygood™ Barista). Operating in nine markets (inc. USA) now and more to follow. Having recently closed our first round of funding with a 25M€ investment and guided by our mission to change the world with awesome taste, we are now ready to take the next step in our international growth plan.
Right now we are looking for an amazing Social Media (wizard) Manager who will own and manage all of Oddlygood's current and future social media channels, develop social media strategy, guidelines and tone of voice whilst working data-driven to create and curate the best social media experience. Are you innovative, passionate about great food, and do you have a can-do attitude? Then you could be a perfect fit. You will be reporting to the CMO located in Stockholm. This role is located either in Helsinki HQ or Stockholm.
This journey will be an adventure so if interested, prepare for a ride!
You will be responsible for the development and execution of our social media:
– Create the social media strategy and content calendar as well as the publishing plan.
– Work closely with trade marketing, local marketing and our sales teams to ensure an integrated approach and that owned, earned and paid social media are aligned.
– In collaboration with our local markets ensure that our social media channels are managed to suit the markets in the best possible way.
– Secure the scheduling, publishing and boosting of content as well as own the boosting budget and manage it continuously.
– Track, measure and optimise content performance utilising measurement tools.
– Create, curate and source social media channel content and secure brand tonality in social media copywriting. You will work closely with the creative teams to produce inspirational branded content for owned channels.
– Track competitors and be aware of market changes and stay up-to-date social media best practices to maximise the potential of all channels.
– Work closely with business development in order to set a joint way of working, tone of voice and information sharing of product and brand news.
What makes you one of us
– You are a creative marketeer who wants to be part of developing a brand strategy on a global scale.
– You have worked with audience acquisition and development whilst aligning brand storytelling with social media KPIs.
– You have a cooperative mindset aimed at adding value.
– You are growth-driven, result-oriented and resilient. This will be an adventure and it is essential to be able to endure uncertainty.
Oddlygood is a global company and thus we expect you to speak and write fluent English and be able to travel.
With Oddlygood there is a true possibility to make your mark in the world. This is an inspiring and challenging job. Oddlygood combines the best of small and large company ways of working with great results! We also appreciate putting your own person fully in the game when building this fresh company and its culture. We have just started our journey and you will get the chance to create something totally new with us!
APPLY NOW!
Please send your application by latest 18.10.2022 – apply here: https://valio.rekrytointi.com/paikat/index.php?jid=3056&key=&o=A_RJ&rspvt=cwpawfcnz1ko4ck8c0swk8o4o0sgcow
Valio and 4potentials have a great cooperation. When you apply you could if you are a member of 4potentials talent network – write that you are a member of 4potentials – under "References".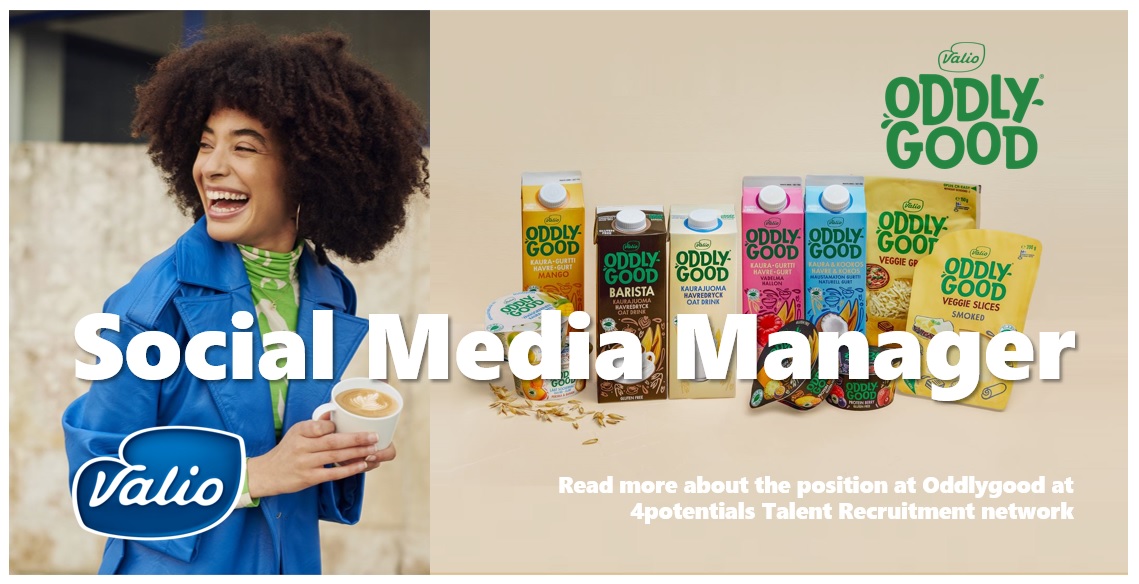 More information about us:
https://oddlygood.com/
https://oddlygood.com/articles/oddlygood-global-to-receive-significant-growth-funding-for-its-international-plant-based-business/
Does this sound like you? So, if you are up to the task of being responsible for global social media strategies and local market collaborations for an iconic brand in constant growth, this job is a perfect match for you. Please send us your resume as soon as possible as we are reviewing candidates continuously.
We look forward to your application!