Do you want to take the opportunity to shape the future success of Dustin by enabling sustainability impact at scale?
Redefining the impact of our business, Dustin's guiding direction is to enable the circularity movement. By 2030, Dustin will have zero climate impact throughout the value chain and 100% circular offerings. We will also have implemented 100 actions for social equality.
As a leading online IT partner in the Nordics and Benelux, we can influence both upstream and downstream in the ways that we develop our offering, responsibly use resources, build a culture of ethics and equality, and how we offer guidance towards more sustainable choices. In order to find new radical ideas and solutions, focus is on collaboration, ways of working and inclusion & diversity.
My name is Martin Lindecrantz and I am Executive Vice President HR and Sustainability. As Head of Sustainability, you will report to me and lead a team of four sustainability professionals.
About you
– Business and people oriented
– Compassionate and engaging with great communication skills
– Purpose driven and analytical
– Strategic with a pragmatic mindset and a healthy sense of humour
– Curious and empowering with excellent skills at driving behavioural changes
About the position
Working closely with key stakeholders and extended management across all business units and functions, you take ownership of Dustin's sustainability strategy by ensuring successful integration with overall business strategy and conveying a clear end destination.
You lead the development and success of Dustin's work related to the 2030 commitments within circularity, climate, and social equality and you orchestrate the journey by engaging various stakeholder groups to integrate targets and actions into annual operating plans.
To succeed in your role, you will also develop strategic relationships with external stakeholders to find ways to drive progress in collaboration with our customers. You will also use your curiosity to explore how to involve Dustin's strategic partners in making the value chain ambitions come true, as an integral part of the daily business collaboration. You are an internal and external advocator for our 2030 commitments with the aim to advance business, brand, and reputation goals and you lead the production of Dustin's Sustainability Report.
What we offer
Dustin offers exciting individual development at a workplace that is inspiring and fast-paced. A dynamic and multicultural environment and a chance to enable sustainability impact at scale! Dustin have an informal culture with a "win as a team"-spirit where we want you to grow with us!
What you bring
– Experience of corporate responsibility / sustainability
– Education in a relevant field, e.g. Science, Engineering or Business
– Proven track record of success in leading corporate sustainability programs
– Previous experience from the IT or equal Industry, preferably from both product and service-based value chains and matrix organizations
– Good understanding of sustainability trends and concepts with regards to circularity, environment, and social equality
– Experience of sustainability reporting and supply chain audits
– Proficiency in English and preferably at least one of the Nordic languages or Dutch.
Apply now – directly to Dustin
Dustin want a good match! If needed, they will perform multiple interviews, and sometime a case study test. This ensures to find the right person for the right role based on the fair data driven basis. Some of the meetings will be through Teams, but if all participants feel comfortable with a meeting at the office – it's preferable for the hiring manager.
Dustin and 4potentials have a great partnership. Please write if you are in 4potentials network/database in CV or LinkedIn. In this process 4potentials could be involved. Mark 4potentials about how you find the job!
HERE YOU APPLY: https://jobs.dustin.se/jobs/1369230-head-of-sustainability/applications/new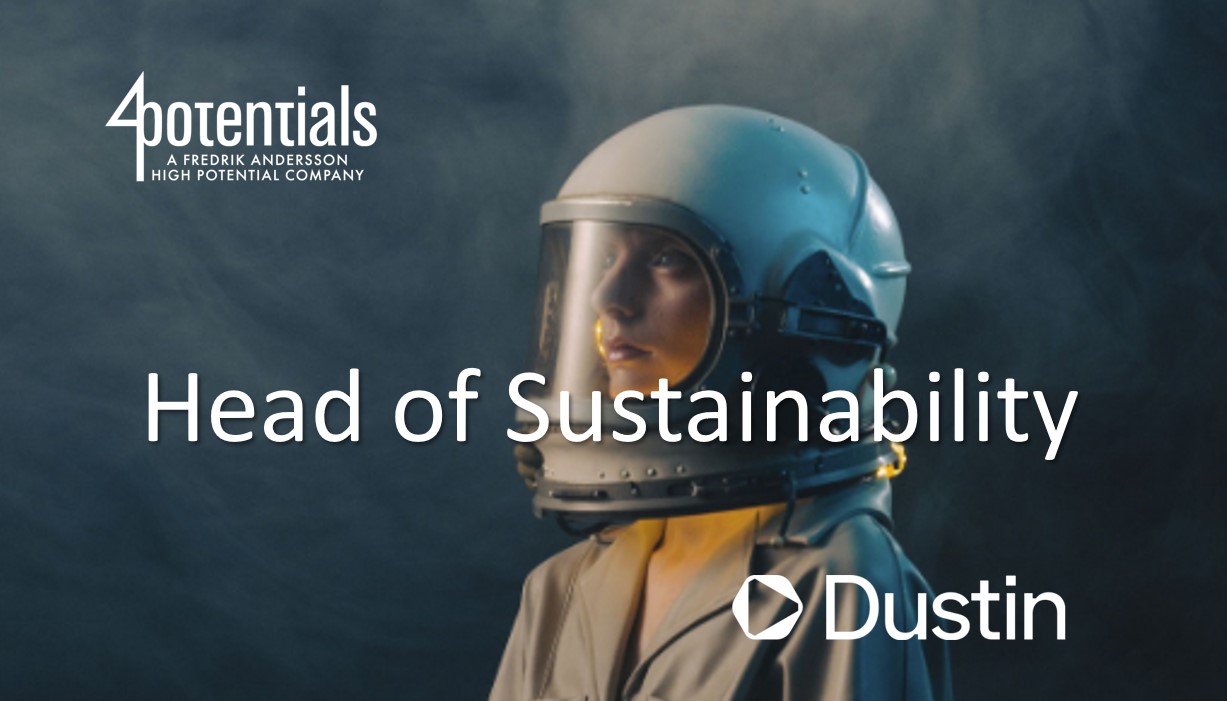 #sustainability #dustin #IT #corporate #4potentials #talent #future #enviroment