Social Eatertainment Group (SEG) is an international restaurant and entertainment chain with almost 150 venues in 15 countries. We call it eatertainment, the combination of food, drinks and activities. We currently have three leading brands in our portfolio: O'Learys, Harrys and Sing Sing Karaoke. We have ambitious growth plans and will continue to grow at a high pace in the coming years. SEG will add new venues in countries with current operations, but we might also expand to new countries and add new brands to the portfolio. SEG is backed by strong owners including Altor Equity Partners.
Do you want to be part of our exciting journey and together with committed and driven Social Eatertainment Group colleagues build the largest eatertainment Group in Europe? We are now looking for an Expansion and M&A Associate to help us execute our growth plans.
What you will do
As the Expansion and M&A Associate you are a part of Social Eatertainment Group's commercial team and drive and help coordinate our international growth across all SEG brands. As our ambition is to 3x the company in size in the coming 3 years the position is of strategic importance for us.
The main focus area is growth through M&A and own venues, but you will also have other tasks related to growth, such as helping preparing board and management material and help identify and coordinate franchise growth opportunities. The role is international to its nature, with a special focus on SEG's growth and home markets Sweden, Finland, Norway and the Netherlands. The role is group-wide, and you work with all SEG brands (O'Learys, Harrys and Sing Sing Karaoke).
The Expansion and M&A Associate works in close collaboration with the Expansion and M&A Manager and other parts of the organization such as the management team, to align on priorities and grow the business together with other stakeholders. This person is an ambassador for our expansion and supports the organization in expanding and reaching our vision of more than 400 venues in 2025.
Key responsibilities include:
-Proactively searches for new growth opportunities, especially potential conversion acquisition opportunities, for all SEG brands with an initial focus on Sweden, Norway and Finland, and depending on interest also the Netherlands.
-Prepares business cases and makes preliminary assessments. In smaller projects you drive the project end-to-end, from screening to valuation and execution with support from various team members across SEG.


seg

-Supports in larger acquisitions, such as platform and new brand acquisitions.
-Supports the Expansion and M&A Manager in administrative tasks to coordinate all ongoing and potential expansion leads; including franchise, own/JV venues and acquisitions.
-Supports the Expansion and M&A Manager in preparing board material and presentations.
-Participates in planning and executing B2B marketing events, exhibitions and meetings.
-From time-to-time other tasks related to expansion, M&A and strategy, for example to support in market research or provide input to the expansion strategy.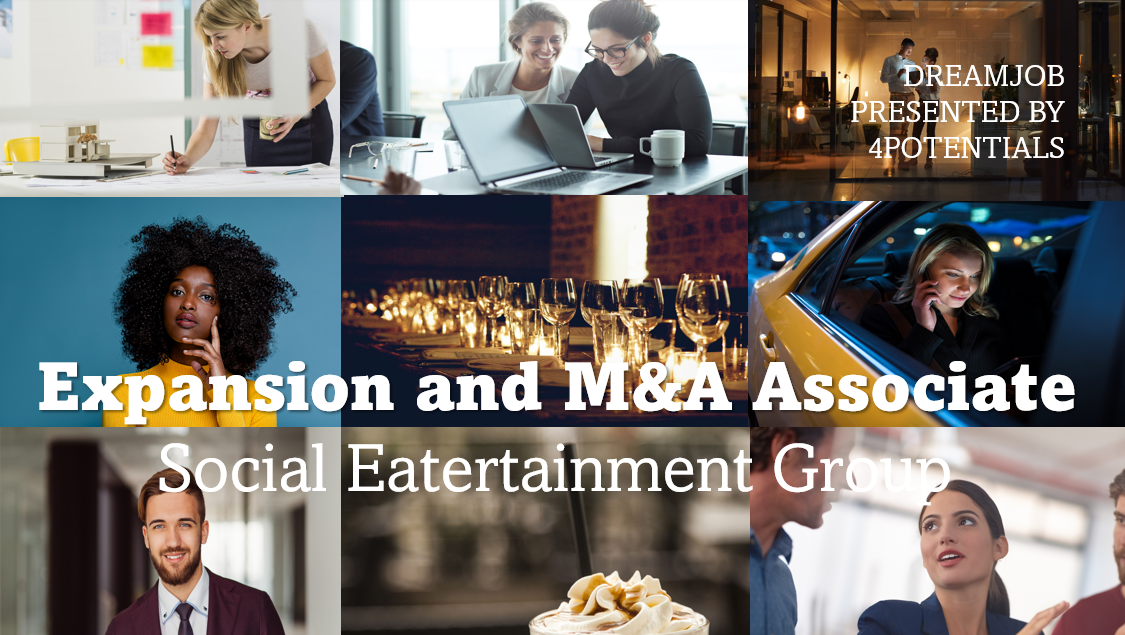 To be successful in this role you:
-A University degree within business, engineering or equivalent.
-Have at least 1-2 years' experience from management consulting, M&A advisory, investment banking or inhouse corporate development team or another relevant role. Preferably in consumer oriented, multi-brand, international companies.
-Exceptional quantitative and qualitative analytical skills and a structured way of working.


seg

-Hands-on experience of company valuation, financial modelling, deal structuring and negotiation.
-Demonstrated people skills with a passion for working together with many stakeholders both within your own team, other teams, colleagues and external partners.
-Able to build strong professional relationships based on trust.


seg

-Ensure focused efforts – good at prioritizing and recognizes that resources need to be allocated to the efforts that have the highest returns.
-Strong written and verbal communication skills.
-Fluency in English and Swedish is a must, all other Nordic or European languages are seen as an advantage.
-As a person you are curious, people-oriented, flexible and have a positive can-do attitude.
You report to the Expansion and M&A Manager. The position is based in Stockholm and will require some travelling. At SEG we have a flexible hybrid work policy.
We recommend you submit your application as soon as possible as selection and interviews are held continually.
APPLY HERE:
Expansion and M&A Associate – O'Learys (olearyssportsbar.com)
Welcome to O'Learys, Harrys and Sing Sing Karaoke!