A dream job within HR and people development
What if you could go to work and contribute to a more sustainable future? Are you the one who will be part of leading and developing BillerudKorsnäs' digital strategy for Learning & Development?
You will belong to the People Development function who is responsible for BillerudKorsnäs global processes when it comes to attracting, recruiting, introducing, retaining and of course developing our people. The team and BillerudKorsnäs are on an exciting journey to fully embrace and develop our L&D agenda. Do you want to realize your ideas and pedagogic skills in Learning & Development? Then you should apply for the role of Digital Learning & Development Partner.
We offer you the opportunity to work with group-wide issues that will contribute great value to the entire company. In addition, you get to be part of a great team where we help and support each other to achieve the best results.
You will have a key role

You will work with leading and developing our digital approach to learning, processes, and tools to offer BillerudKorsnäs employees a platform for the development of the knowledge and skills that contribute reaching our strategic goals. Further responsibilities include:
Together with Leadership & Talent Partner and Learning & Development Specialist identify and analyze the need for various cost-effective education and learning programs with focus on digital trainings.
Coordinate and deliver high-quality training that meets the business needs.
Project management and coach our internal customer in the development of digital training to ensure a real learning experience.
Lead the work to harmonize group-wide trainings and agreements with external training providers.
Together with L&T Partner, develop and design processes and activities for increased learning mindset in the organization.
You will report to Director People Development and be placed at our head office in Solna, Stockholm.
You have a great interest in HR and training
– Academic degree in HR, Pedagogy or other relevant education.
– Several years of experience in creating and being responsible for digital trainings.
– Solid knowledge in creating and delivering effective corporate training and digital learning
– Strong skills within HR systems
– Excellent spoken and written skills in both Swedish and English.
You like to act in front of the camera
To succeed in this role, you enjoy having great responsibility and have a natural aptitude for running and leading projects. You like to act in front of a camera and have a natural ability to capture the audience´s interest. You also have a good ability to see the big picture and thrive in a strategic role while at the same time you can dive into details to understand the needs of the business linked to education and learning.
Why should you apply?
The work are a opportunity to contribute to a more sustainable future and a great responsibility, opportunity to influence, lead the development of a learning culture within the company
Its a chance to build up something new.
You have performance-based bonus, occupational pension, and several other benefits and possibility to work from home 2 days a week.
BillerudKorsnäs are in the forefront within HR. Its a talent company.
Apply now!
Welcome with your application no later than 13th of February. Selection is done continuously.
You apply directly to BillerudKorsnäs here: Lediga tjänster – BillerudKorsnäs (billerudkorsnas.se)
Please write that you have seen the ad through 4potentials. If you want to increase HR network – apply also to 4potentials. We work together with BillerudKorsnäs in several assignments.
dgfg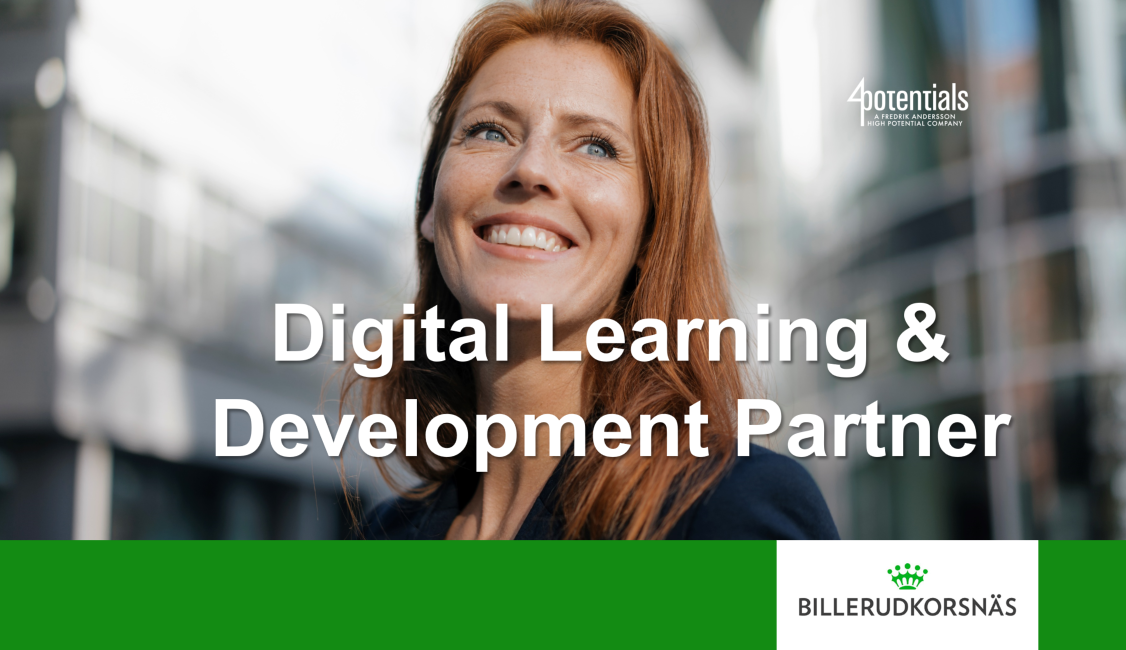 BillerudKorsnäs is an equal opportunity employer. We embrace diversity and are committed to creating an inclusive environment for all employees and candidates. We use psychological tests as part of our selection process, with the purpose to make objective decisions.