WAYTOBILL is a payment solution company that growing very fast. You have now a unique chance to join the company. Sweden have a great story of companies within payment solutions. One of them are Waytobill who have a unique concept that increase their customers sales. 
Our mission is to improve telesales results by making customer payments effortless and easy.
Waytobill is the telesales checkout transforming the telemarketing industry in Europe.
Our point-of-sale payment plugin unleashes the true potential of the industry. Merchants get better sales results, telemarketers add value and everyone gets happy customers.
The plugin allows telemarketers to take customers straight to the checkout by sending an sms link from the dialer. It makes it easy to accept payments and maximise conversion rates.
Join us and help building our new Nordic sales team
We are now looking for a Account Manager to join our new Nordic sales team and help us revolutionise our customers' telesales payments!
This position is a chance for you if you enjoy selling and especially enjoy finding new clients in the field of B2B sales and payments. The product is unique on the market and addresses the typical challenges within the telesales industry and helps merchants increasing sales conversion and building subscription volume.
We are now launching the product in the Nordic markets and are building the sales team that will drive sales on each local market. This is an opportunity to use your full capacity and help building a fast growing company. Also to learn new things and develop as a professional and individual.
We have a fully remote work policy that will continue even after Covid-19. We mainly use video meetings, LinkedIn and telephone to meet and do business with our customers. We meet our colleagues daily via video meetings and collaboration tools and meet physically regularly for social activities. The policy provides great flexibility for employees to work independently and from any location. We currently have staff in Stockholm and Barcelona.
What's in it for you?
– The opportunity to work in an international startup together with colleagues who decided to succeed. Freedom to participate in building and shaping the company.
– Leadership focused on giving you and your team maximum space to independently solve problems and make decisions. It includes the opportunity to influence your role and development plan and that you will become a success. Your personal development and growth is our focus.
– An open, friendly and inclusive corporate culture. Which includes being informed about the company's goals, results and challenges and that your ideas are always counted and valued. A supportive and friendly team and regular social and inspiring business activities.
– Fixed monthly salary and commission based on sales results.
What we are looking for?
– We see that you will succeed in this role if you love helping your customers succeed. You can familiarise yourself with our customers' operations and challenges and create value through professional advice and solutions to these challenges.
– We are targeting customers within subscription businesses like media, memberships and charity. Knowledge about their needs and strong network within these areas are welcome. Existing contacts and network within telesales eco system is also an advantage.
– You are a person with strong drive and business minded. You drive the entire sales process from cold calling or contacts via social media, conduct sales meetings and demos and land deals. You find it easy to create new contacts and to build strong relationships among business management and entrepreneurs.
– For this position, we are looking for a person who can communicate fluently in Swedish with our customers. As English is the company language, good English skills are also required.
– Experience in B2B sales and payments is an advantage, although more important than the experience is, that you have a true passion for sales, that you are interested in technology and are eager to learn more!
How to Apply
We are continuously screening and contacting candidates and will fill the position as soon as we find the right person. Could it be you? Great! – We can't wait to meet you!
Apply with your CV as soon as possible.
You apply here: https://careers.waytobill.com/jobs/1253904-account-manager-swedish-market/applications/new
Read more about Waytobill: https://finanstid.se/svenska-fintechbolaget-waytobill-loser-problem-i-telemarketingbranschen/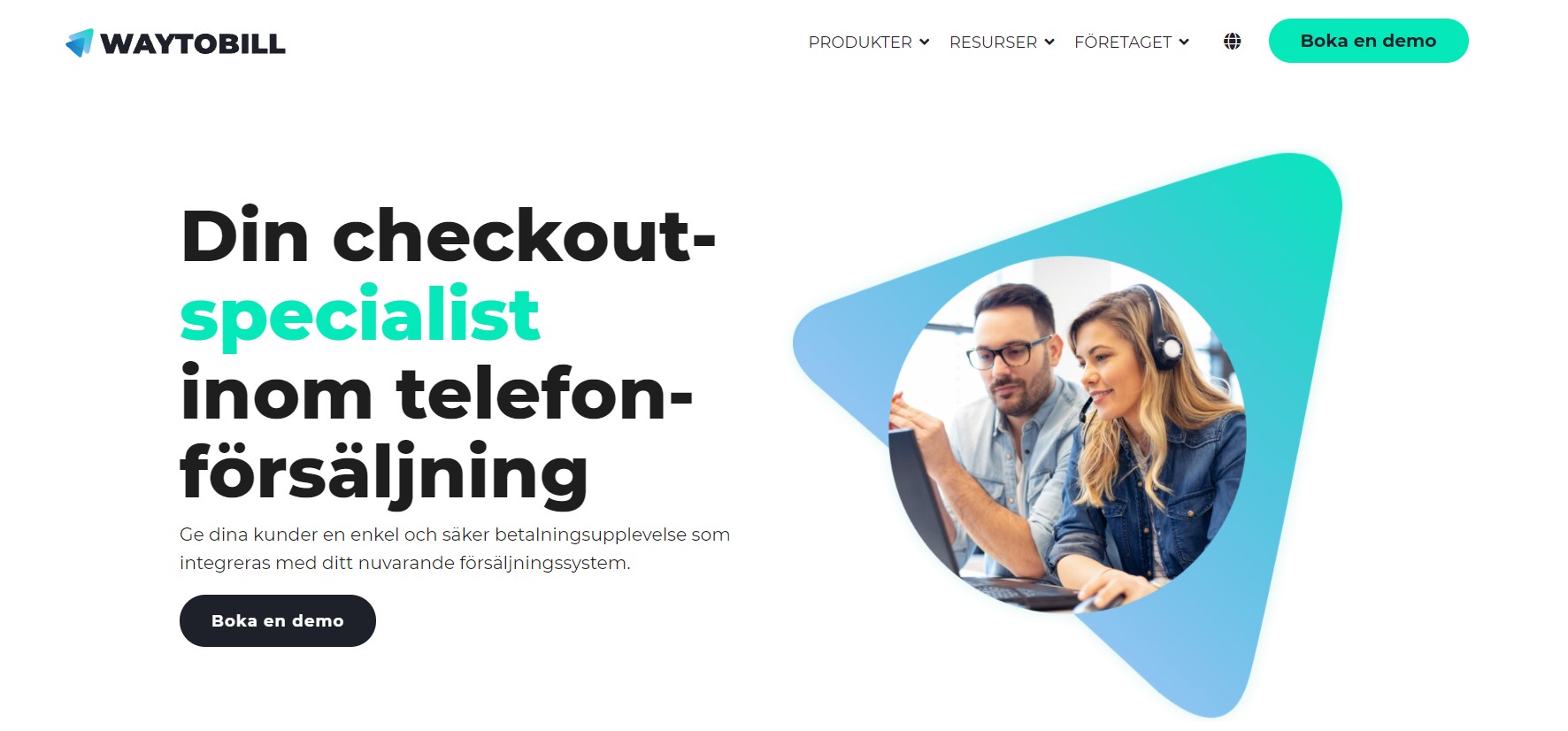 Waytobill
Waytobill is a fintech startup with a unique payment solution that helps telemarketers in the European market getting paid. We create a unique position by being specialised and focusing on a clear target group and solving their problems.
The goal is to become the number one, within our field, in the European market. We are well on our way and are now leaving our proof-of-concept phase to go into scale up mode. We have good references from happy customers and are backed with venture capital to support growth.
We are going international from start and are entering new markets and are having personnel in several countries and with different backgrounds.
We do everything with high ambition and a drive. We want to get things done and keep up the startup dynamic of constant development and being one step ahead. Therefore, we are looking for people that share our ambition and drive to join this exciting journey!